Lobsters!
The show notes for our episode about lobsters are on the way. Please check back for cool/interesting/funny lobster information as well as links to the full articles we used for our research.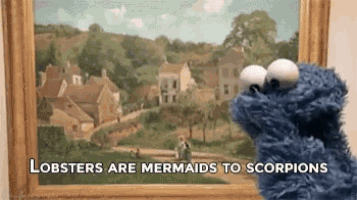 GIF courtesy of Kathryn Talmo
Now you know a little more about lobsters than you did this morning! What do you think of them? We want to hear from you! Send us your suggestions for animals you'd like to hear us talk about, or just drop us a line about anything at varmintspodcast@gmail.com! We might even read your email on the show.
Your feedback is always welcome!
And a very special welcome to the more than 1,200 of you that gave us a like on our Facebook page. Holy cow! Thank you! We hope you like what you hear and we look forward to hearing from you soon!
All other images on the page are featured on the linked websites.
About our voice actors:
Chris "Toph" Green is the host of the GravityBeard podcast.
Josh Hallmark runs the Our Americana network and hosts the podcasts Our Americana, The Karen and Ellen Letters, Playlist and True Crime Bullshit.
Justine and Santiago are the hosts of the very funny Weird With You podcast.
and last but never least, Stacey from Rough Giraffe.