Seahorses!
Let's go for a swim in the ocean this week with Paul and Donna and look at those weird wonderful little fishes: the seahorses!
But first, the news!
Hans is now a 21 year old man but he's been a badass for years.
A totally preggers sea stallion that no doubt would need help tying his shoes. If he had feet.
You wouldn't think that seahorses would have so much in common with chameleons but they do! They are amazing hunters too!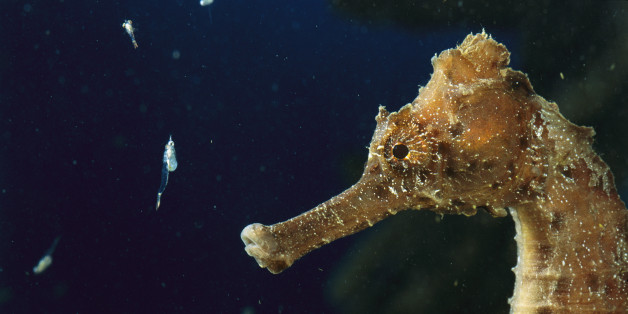 This seahorse has an even better success rate than Paul at the peel and eat shrimp tray at a Chinese buffet.
If you like us, you're going to love what the Kratt Brothers are doing for educating kids about animals. We love them! Video courtesy of YouTube user WildKratts.
Creature adventurers!
We love ZeFrank and he's started making new videos again! These videos require some parental discretion before letting your rugrats view them. Click here if you want to watch it.
Now you know even more about seahorses than you did this morning! What do you think of them? We want to hear from you! Send us your suggestions for animals you'd like to hear us talk about, or just drop us a line about anything at varmintspodcast@gmail.com! We might even read your email on the show.
Your feedback is always welcome!
And a very special welcome to the more than 1,200 of you that gave us a like on our Facebook page. Holy cow! Thank you! We hope you like what you hear and we look forward to hearing from you soon!
Music used:
"Dubakupado" and "Monkeys Spinning Monkeys" are licensed under a 
Creative Commons Attribution

 license (https://creativecommons.org/licenses/by/4.0/) Artist: Kevin MacLeod (incompetech.com)
Featured image by Andres Alvarado, "Seahorse" 
Attribution-ShareAlike 2.0 Generic
(CC BY-SA 2.0) 
Chris "Toph" Green is the host of the GravityBeard podcast.
Josh Hallmark runs the Our Americana network and hosts the podcasts Our Americana, The Karen and Ellen Letters, Playlist and True Crime Bullshit.